The Beaches
Most of the streets that lead to the ocean end at an entrance to Lavallette's mile long boardwalk (a non-commercial walkway). Entry to the beach is via walkways off of the boardwalk, in breaks in the dunes that are at the back of the beach. The beach access points are also convenient places for the town to station their badge checkers, which are present whenever the lifeguards are on duty. There are also two bayside swimming beaches. One bay beach is located at Bay Boulevard and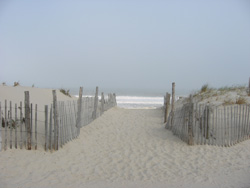 Brooklyn Ave and the other is found at Bay Boulevard and Reese Ave. The Barnegat Bay beaches provide a nice option if the surf, especially during high tide, is too rough for your small child to go swimming in the ocean.
The cost and inconvenicence of having to pay-to-play on the beach, by buying beach badges, are offset by the services they fund. Lifeguards and a clean beach help insure that your day at the beach is a pleasant and safe experience.
Lifeguards
2009 patrol season
June 20 to September 6
patrol hours
10 AM to 6 PM - Saturday, Sunday, and Holidays
10 AM to 5 PM - Weekdays
Lifeguards guard both ocean and bay beaches in Lavallette. They are trained to recognize dangerous water conditions and they use this knowledge to make decisions about where people should and should not swim. Since it is easier to keep you out of danger than trying to save you, you should pay attention to any warnings or directions the lifeguards provide. If you go swimming when the lifeguards are not on the beach - off season or during off hours in the summer - you need to be careful. You should know about riptides and what to do if you find yourself caught in one.
Lavallette Beach Badges
Who needs a Beach Badge?
Children under 12 do not need a badge. For anyone else that wants to get onto a lifeguard protected Lavallette beach - Beach Badges must be worn at all times, visible on the front of the bathing suit. When the lifeguards are off duty you do not need a badge to be on the beach.
How much does a beach badge cost?
Daily - $6
Weekly -  $25  -  Weekly beach badges are valid from Saturday to Saturday
Season - $45  - Seasonal badges purchased before June 16 are $35.
Senior Seasonal - $12
These fees are for the 2009 summer season.
Where can I buy a Beach Badge?
You can purchase a one day badge from any badge checker. A wider range of badges, e.g. weekly and seasonal, can be purchased from the The Lavallette Beach Badge Office. They are located next to the police station at 1300 Grand Central Ave (732-793-2111). The Lavallette Beach Badge Office is open:
May 2 to June 19
Friday 3pm - 7pm
Saturday, Sunday, and Monday 9am - 3pm
June 20 - September 1
Daily from 9 AM - 3 PM
Parking
Free Parking is provided on all the streets that end at the beach. On busy summer days it can be difficult to find a parking spot on the blocks adjacent to the beach unless you get there early. Otherwise you have to find a spot on the other side of 35 South.
Pets
Dogs are not allowed on any of the beaches, at any time. You are allowed to walk your dog on the boardwalk in the off-season, that is the times of the year when there is no active lifeguard service. This does NOT mean you are allowed to walk your dog on the boardwalk when the lifeguards are off duty (early morning or in the evening) during the summer. Sorry about all this if you have a dog - I am not running the borough, just reporting their policies. If you would like to find a NJ beach to visit with your dog you can find one by taking a look at Pet Friendly Travel.
Surfing
Surfing is not allowed in any lifeguard protected swimming area - if you and your buddies show up in your wetsuits carrying your boards you won't be able to try to catch a wave. You can try your luck after the lifeguards have left or before they show up in the morning.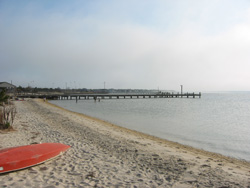 The lifeguards and beach badge situation are the same for the bay beaches. The parking situation is a little different, and you can read about that and find out more about the bay beaches at this page.